THE MACHINE NETWORK IN TAMPA BAY
The first nationwide network for machines is now available in Florida.
In addition to its mild climate and world-renowned beaches, Tampa Bay is now home to one of the most advanced wireless communication networks in the world: Ingenu's Machine Network.
RPMA technology enables machines and devices to communicate more efficiently and reliably than ever before. With the launch of the Machine Network in Tampa Bay, municipalities, government agencies and businesses will be able to tap into its always-available, ubiquitous coverage to build Internet of Things solutions.
The Machine Network is rapidly being deployed across the country. To find out when the network is coming to your area, check out our nationwide coverage map.
Bringing the Internet of Things
TO TAMPA BAY
Now deployed in one of Florida's largest population centers, the Machine Network leverages Ingenu's patented RPMA wireless technology to offer low-power wide-area data connectivity to machines and devices. All in all, sixteen RPMA access points provide connectivity to an area of over 2,500 sq. miles: an area roughly the size of Delaware.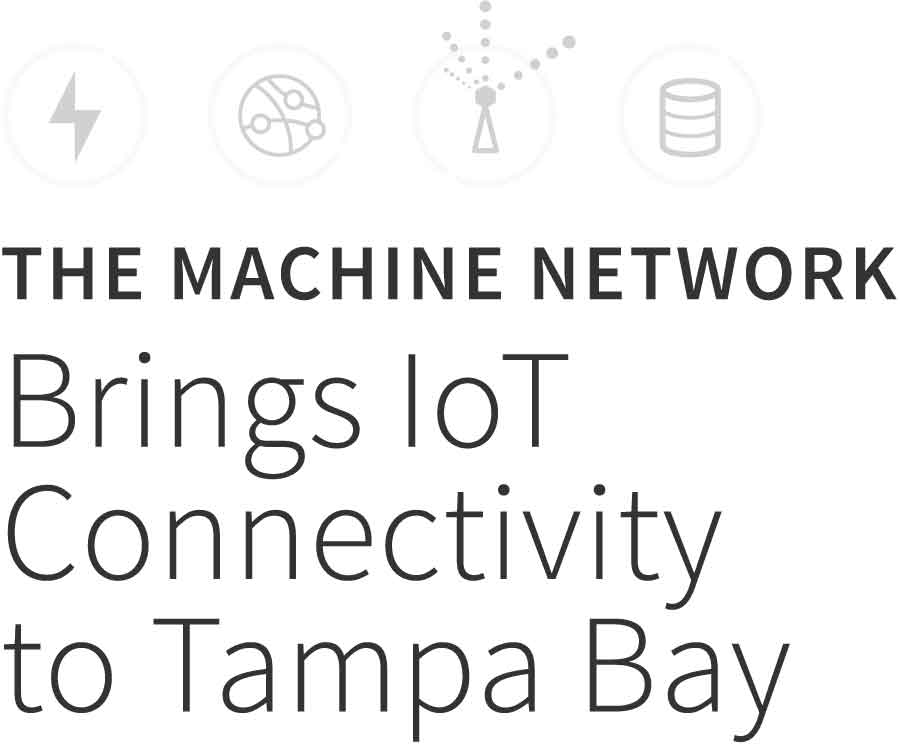 The Internet of Things (IoT) is supposed to have billions of devices connected that will bring greater efficiencies and savings. But how exactly is that done? The IoT requires well placed sensors that transmit information wirelessly back to the cloud or other storage medium. That information is either used live for things like monitoring or control or is analyzed later to optimize and automate processes. In this document, we will show you ways in which this vision has already been achieved around the globe using Ingenu's wireless technology, RPMA.
The IoT requires wireless technology to connect devices that collect information. Ingenu is a wireless connectivity provider dedicated exclusively to machine connectivity. Ingenu's Random Phase Multiple Access (RPMA) technology provides wireless connectivity to devices allowing them to communicate back to their owners. RPMA has connected smart devices for years. RPMA is a thoroughly proven technology enabling dozens of private networks including verticals such as the smart city, smart grid, asset tracking, and oil and gas since 2008.
In this collection of case studies, we'll explore ways in which RPMA has brought value to citizens, cities, governments, businesses and enterprises. While some of these case studies are specific to a particular vertical, many may be generalized across other industries. The value of the IoT is real today, and RPMA makes that value real.